PROJECTLAB: Quest for Project Excellence TM
on-snow skiing experience powered by professional ski instructors
indoor learning experience powered by global experts in project management and
a Management Worlds simulation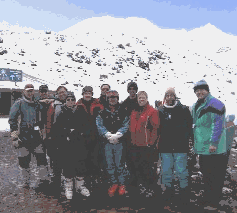 Participants in this 24-hour x 5-day "Quest" will develop long lasting, best theories on managing and leading project organizations through an engaging mix of indoor and outdoor learning experiences.
Your coaches are globally respected experts in project management and skiing and include Dr. Lynn Crawford, University of Management and Technology, Australia, Larry Suda, President, Managment Worlds, USA; Mike Katagiri, President Center for Project Excellence, USA; Bob McGinnis, McGinnis Enterprises, USA.
This Quest for Project Excellence PROJECTLAB was first offered by the Center's Mike Katagiri and Dr. Lynn Crawford on the snow fields of Turoa, New Zealand. The participants developed their coaching, influencing, and facilitating skills on and off snow and developed best theories for creating a project learning organization.
Who this is for
This PROJECTLAB is designed for project managers and managers of project management with the ability to ski or sno-board on intermediate (blue) ski area trails.
Graduates will develop their skills to
Coach subordinates for higher performance
Influence others more effectively
Facilitate groups using group facilitation methods
Develop a project learning organization
Align project strategies with organizational strategies
PROJECTLAB
Participants are coached by experts on-snow and off-snow in a highly-charged, hands-on accelerated learning environment. The PROJECTLAB includes a well balanced combination of rapid learning techniques including: on-snow experiences, computer simulation, self assessment instrument, coaching, group discussions, reflection, and lectures. During the 4 day experience, participants will work individually and in teams to "Develop Best Theories TM" associated with leading customers, staff, vendors, contractors, to meet quality requirements, schedule commitments, customer satisfaction, and organizational capability.


Participants will use the Center's signature EDGEFAST learning and innovation method to reflect and learn deeply. They will: "Explore best practices TM", "Develop best theories TM", "Guide people TM" with new skills and behaviors in their workplace, and "Evolve organizationally TM." With a critical mass of like thinking colleagues, they will evolve their organization towards project excellence. Many participants will also exclaim:
"This is the best learning experience I've ever attended ...
... well worth my time"